In hardware design, finding specialized, trained engineers is a challenge
We collaborate with fabless firms, specializing in the creation of System-on-Chips (SoCs) for various high-tech arenas including
RISC V

Data Centers, 5G, AI, Deep Learning

Image Signal Processing
Our services extend to offering highly skilled professionals to bolster your existing teams, and providing the necessary resources to effectively scale your design, verification, and compiler units.
Our mission is to expedite your product's journey to market. We achieve this by deploying exceptional design verification engineers who augment and bolster your in-house engineering teams.
Led by a management team with top-tier training from the USA and experience at renowned companies like Digital Alpha Processor, HP, Intel, and Qualcomm, 10xEngineers excels in identifying and fostering high-caliber global talent. Under this seasoned guidance, our professionals are groomed to surpass the demanding standards of the semiconductor industry.
• Gain an edge over your market competitors
• Achieve a significant reduction in your product's overall cost
• Optimize time by shortening the design and manufacturing cycle
Image Signal Processing
Accelerating your time to market
Accelerated Market Entry: We provide you with highly skilled and trained resources for Image Signal Processing design, development, and testing, aimed at accelerating your time-to-market.
Specialization in ISP Development: Our focus is on crafting image signal processors that deliver exceptional image quality, keeping your business at the cutting edge of technological advancement.
Incorporation of Advanced Technology: We leverage the latest breakthroughs in AI and computational photography to design highly efficient image processing algorithms.
Adherence to Rigorous Quality Standards: Each algorithm we design undergoes exhaustive testing to guarantee adherence to the highest quality standards.
All-Inclusive R&D Services: We offer a comprehensive suite of research, design, and development services. Our objective is to elevate image quality within computational constraints, transforming your innovative concepts into high-performing, tangible products.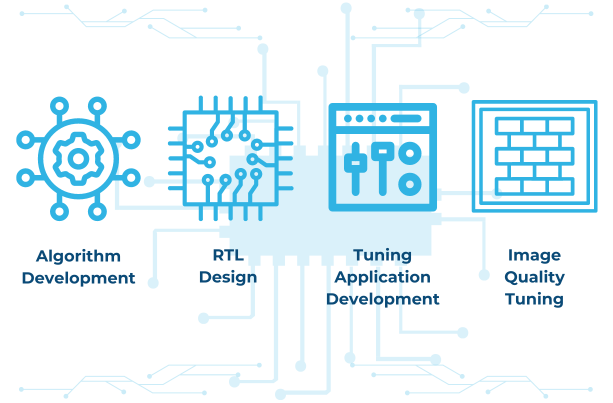 RISC-V
Time to Market Acceleration
We provide expert RISC-V services to ensure delivery of complex projects within the promised timeline. Our expertise is around
RISC-V design's functional and code coverage,
Testplan development,
Test generators,
Regression and
Automation
Compiler and LLVM
Our Initiatives
Our purpose-built technology for scientific data transforms it into an accessible and analysis-ready asset. This powerful asset enables scientists to solve today's challenges and drive tomorrow's innovations. By providing accessible technology, we empower scientists to accelerate their discoveries and achieve breakthroughs.
Infinite ISP
Our Open-Source Contribution to Image Signal Processing Innovation
Explore a rich repository of high-level ISP algorithms, which are easily accessible on GitHub and span from Python to C to RTL to FPGA, even to ASIC design.
Read More
Cloud V
Our Cutting-Edge Solution for Streamlining RISC-V Architecture Testing
Dive into an innovative, on-demand CI environment, readily available. Our service encompasses a wide range of testing modes, from Linux shell and CI/CD scripting, to QEMU User and System modes, offering comprehensive support for your RISC-V development needs.
Read More